Angular development services from DTech Studio that produce outstanding results
As a prominent AngularJS development firm in Junagadh, Gujarat, we've proven our ability to provide feature-rich and cutting-edge UI/UX AngularJS solutions. With the newest Angular developer tools and skillsets, outsource full-time Angular development professionals from us to design highly scalable, interactive, and dynamic front-ends. To efficiently speed your front-end architecture. We were early adopters and are now seasoned veterans of this decade's most cutting-edge, most widely adopted front-end technology. We can provide you with your pick of offshore Angular developers. With DTech Studio, we can also assist you in forming a cross-functional Angular team.
Advanced Scalability and Security
The security of your applications is of paramount importance to us, and we make it a priority right from the start of the development process.
Team of Dedicated Developers
Our Angular web application developers have a lot of expertise in creating personalized, creative, and highly interactive online and mobile apps.
Transparent Methodology
Working with DTech Studio f provides you with comprehensive transparency into the project as well as seamless collaboration.
Models of Flexible Engagement
Rather than working to fixed deadlines, we give you the freedom to choose from a variety of engagement models that match your company objectives.
Services for Angular Migration
Our expert engineers will upgrade your present Angular application to the latest version, as well as assist you in migrating from one server to another and launching your business on Angular migration.
Development of Progressive Web Apps (PWA)
We utilize Angular to create top-notch, fast, and dependable Progressive Web Apps that improve and enhance the user experience.
Why should you choose Angular framework?
Here are a few reasons why you should use Angular instead of alternative frameworks nowadays and for the future
For speedier processing, a simple architecture is used.
Allows you to see the data without having to reload the page.
Routing, dependency injection, animation, and other features are included. in order to improve the user experience
The term "code reusability " refers to the ability to reuse code.
AngularJS uses a feature called directives to teach the browser new syntax.
Here are several examples
Data binding is a technique for storing and retrieving data.
Repeating, showing, and hiding DOM fragments are all controlled by DOM control structures.
Forms and form validation are supported.
Adding new behavior to DOM elements, such as handling DOM events.
HTML is divided into reusable components.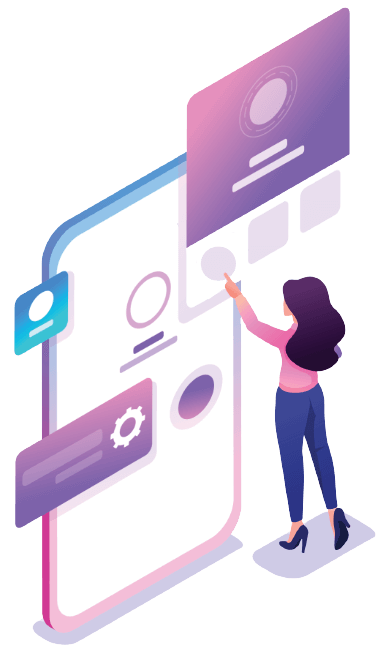 Here are some things to think about while choosing an Angular development partner:
With DTech Studio's expertise in designing Angular-based web and mobile solutions, you'll get faster time-to-market, higher quality, and lower costs. To design outstanding online and mobile applications, our seasoned architects analyze the balance between form and function. To ensure a seamless user experience, we apply design best practices into every stage of development, from wireframing to the final product.
The business's value delivery model
Security compliance and standard operating procedure
Proficiency in technology
Customer service and dependability
Your Searching Ends Here
Fill Up the form and we will get back to you within 24 hours.